Road Trip Survey
Let the Good Times Roll...
You have chosen to take our quick Road Trip survey. After navigating through a few pages and answer a few easy questions then you immediately get our recommendations for your ideal road trip-it's that simple.
Our questions will determine which activities will best fit into your unique personality, budget for this trip, and all within your limited time constraint. At any time during the survey there will be a link to take you back to our home page.
Ok, enough talking. Let's get started, I promise that the questions will be easy.
Tell me about your trip. How many people will be in your group? (Click the appropriate button below)
---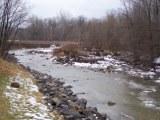 This picture was taken in the Cuyahoga Valley National Park (Cuyahoga Falls, OH).
If you enjoy our road trip survey, then make sure to check out our fun games!