veespec6
So we now have a much better idea about some of the things that will interest you on your trip...
The last thing we need to understand are your travel preferences. There are so many ways for us to get around the country and they all have their own plusses and minuses. On our getting there page we outline these in more detail so that you can fine tune your decision.
Gas prices appear to unstable and it is nearly impossible to budget for a long road trip if you are exclusively relying on using your own vehicle. Getting some sort of mass transit tickets in advance will keep most of the uncertain variable costs from your budget.
And now, we're moving towards the end of our brief survey:
Question #4
Put all the costs aside for a quick second and focus on a perfect world scenario. How far do you ideally want to travel for this road trip?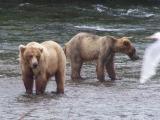 Click here to return to the Road Trip Planner page
You made it to the last question. Immediately after making this last selection you will see your results on the next screen.
Please feel free to use our trip planning system to help save you the money that you need. We will guide you through the best deals online so that you are confident you are maximizing your savings.