Alabama Road Trip
An Alabama road trip is is perfect if you truly love the simple pleasures in life then you need to visit Alabama-the people, places, and food are exceptional. In fact, the restaurant that inspired Jimmy Buffett's Cheeseburger In Paradise anthem is the Dew Drop Inn. The Robert Trent Golf trail is a dream come true any golfer and there are so many affordable courses for you to explore. There are over 20 state parks for you to explore and begin your camping adventure. You may also want to explore The Wharf in Orange Beach to walk along the 1/2 mile boardwalk and check out the various stores and boutiques.
If you truly want to check out something unique and bring back some amazing souvenirs then make sure to stop in Scottsboro and explore the Unclaimed Baggage Center. It is located at 509 W. Willow St., Scottsboro, AL 35768, Phone: 256-259-1525.
Birmingham The people in Birmingham are great to be around and the atmosphere is truly relaxing. The Mustang Club of America meets annually in the city and you may want to check out their rallies if your drive one of these true American beauties. While in Birmingham you may want to check out the Vulcan Park and Museum which features the world's largest cast iron statue! Another exciting activity you may want to consider is checking out the Alabama Jazz Hall of Fame which is located at 1631 4th Ave. North. If you crave live music then check out the City Stages concert series in downtown Birmingham.
National Parks The park system in Alabama provides a great last minute road trip get-away at a very reasonable price. You might want to check out the waterfalls that are at Little River Canyon and toss your Kayak into the water.
Alabama Adventure is located in Bessemer and used to be named Visionland. It features a steel coaster named the Zoomerang which was built in 2005 and a couple other great roller coasters (Rampage and Marvel Mania).
Waterville USA is found on the Gulf Shores and is a great water park with lots of slides and attractions for the entire family. You can ride the Cannonball Run roller coaster or check out the Screamin' Demon water slides!
Local Wineries Making wine in Alabama is more difficult than other areas of the country due to the climate but they do have several wineries that make amazing product that you can check out. One thing to keep in mind is that the grape that grows well in this state is the Muscadine while the other varieties struggle with the wetness of the land. Avoid ordering chardonnays but you will enjoy some great red wines with your meal.
Robert Trent Jones Golf Trail: This golf course project consists of 11 courses and 468 holes of golf. The scenery is fantastic and you can be staring down a waterfall, beautiful riverbeds, and great weather all year long. These courses are considered to be the best value of any courses in the entire country.
Outdoor Festivals Alabama has a handful of outdoor music festivals in the summer in addition to the City Stages concert series in Birmingham. You may want to check into some of these smaller sized festivals such as the DotyFest.
Race Track: Talladega Superspeedway

Address: 3366 Speedway Blvd., Talladega, Alabama

Phone: 256-362-2261
Alabama's Gulf Coast is a great place to plan a family oriented vacation where you can just enjoy a laid back time with the family and enjoy some serious southern cooking. The beaches are not over-crowded and the water is crystal clear. Here's a couple beaches you can look into while planning your trip:
Bienville Beach, Mobile County

Bridgeport Beach, Wilcox County

Dauphin Beach, Mobile County
Interesting Fact
Alabama has the distinction of having the second ever UFO sighting occurred in 1948, which was somewhere around 5,000 feet. The UFO was sighted by pilots of Eastern Airlines flying from Houston to Atlanta on July 24th.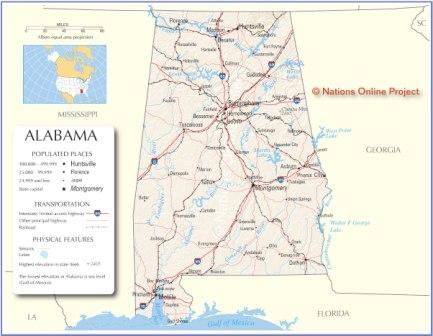 Get great ideas for your Alabama Road Trip.