Arizona Road Trip
An Arizona road trip is going to guarantee that you have amazing weather on your vacation. There is an unlimited amount of outdoor recreation, nightlife, shopping, professional sports, golf, and parks to keep you occupied for months at a time. The most common destination is the Grand Canyon and if you've never seen this park you should seriously consider checking it out.
Arizona has several cities to select from when purchasing your hotel room online at an amazing price. Once you get a great deal on a hotel room it is extremely easy to fill your days with a wide variety of exciting road trip activities.
Chandler continues to work towards restoring their historic downtown to it's original character. The buildings are absolutely stunning and worth taking an afternoon to explore. There is lots to do in this community including concerts, local festivals, and some special events.
Glendale is a booming community with lots of exciting activities including Spring Training for several of the Major League Baseball teams. There are lots of parks, hiking, bike trails, and amazing restaurants for you to explore.
Mesa has some unique visitor activities such as the Museum for the Youth, Arizona Museum of Natural History, Dobson Ranch Golf course, and the Hohokam Stadium (which is the spring training home for the Chicago Cubs). Mesa is the 3rd largest city in Arizona and 38th largest overall in the United States. Fiesta Mall has over 150 stores and is in the East Valley area of town.
Phoenix offers a wide range of tourist activities that you can check into for your upcoming Arizona road trip and is commonly referred to as the Valley of the Sun. There is everything imaginable from golf courses, amazing restaurants, concerts, outdoor festivals, or you can take in a professional football or baseball game. The possibilities are endless for either a digital camera safari or conspicuous tourist game. You may want to walk through the Japanese Friendship Garden and snap a couple pictures of the over 1,500 tons of rock or the 12 foot waterfall. If you decide to walk through South Mountain State Park you will see some ancient petroglyphs that cover large rocks along the trails.
Scottsdale offers a free of charge trolley service that will take you around the town and to the popular destinations. There are lots of galleries and amazing shops to purchase some ancient Navajo art. Scottsdale ahs a lot of night life and a booming economy so you will want to consider this as a great option for a downtown adventure on your road trip.
Sedona is a great place to visit all year long because the weather is spectacular. It is often referred to as "Red Rock Country" because of the surrounding rock formations. You can explore history, archeology, arts, metaphysical, or embark on a crazy shopping spree. Make sure you visit Oak Creek Canyon because it's breathtaking views are world class. There are three amazing State Parks nearby that are each worth checking out: Slide Rock State Park, Red Rock State Park, and Dead Horse Ranch State Park. The red rocks in this area have attracted a wide range of spiritual healers because they harness their powers from the land.
Tucson has 360 days of sunshine each year! It's no wonder why this is a hotspot for Major League Baseball's spring training. There are so many bike and hiking trails to explore your mind will go numb. There is an endless amount of activities you can enjoy in Tucson but here are a few ideas:
Arizona Sonora Desert Museum (520-883-1380): This is an amazing zoo, natural history museum, and botanical garden in one place!

Bird Cage Theatre (800-457-3423): There were 16 gun fights and 26 killings in this preserved old west landmark

Casino of the Sun (800-344-9435): Slot machines, bingo, and a buffet!

Catalina State Park (520-628-5798): Take our word for it and check this place out.

Colossal Cave Mountain Park (520-647-7275): This desert refuge is over one thousand years old.

Desert Diamond Casinos (520-342-2935): Slots, blackjack, poker, bingo, keno, buffet, etc.

Flandrau-University of Arizona Science Center (520-621-7827): Road trips can be educational if you let them.

International Wildlife Museum (520-629-0100): Natural history collections from around the world

Kartchner Caverns State Park® (520-586-4100): Guided cave tours, interactive displays, Discovery Center

Kitt Peak National Observatory (520-318-8726): Look for a UFO or at the universe-your choice.

Mt. Lemmon Ski Valley (520-576-1400)

O.K. Corral © (800-518-1566): Site of a world famous gunfight in historic Tombstone.

Old Tucson Studios (520-883-0100): Check out the description below.

Queen Mine Tours (866-2071): Tour an underground mine.

Sabino Canyon Tours (520-749-2327): Check out this amazing desert canyon

The Tombstone Epitaph (800-518-1566): Famous old west newspaper office.

University of Arizona-Biosphere 2 (520-838-6200): Largest glass-enclosed mini-world

Titan Missle Museum (520-625-7736): This is the only publicly accessible Titan II missile site in the nation.

Trail Dust Town 9520-296-4551): Stunt shows, miniature train, carousel, old west town.

Tucson Greyhound Park (520-884-7576): Live greyhound racing six days a week.
Whitewater rafting
on the Colorado River is the best in the world and there are several overnight trips available that will blow you away.
Backpacking
is also permitted inside the park and you can work your way to the bottom of the canyon and spend a few nights by the river. One of the great things about the Grand Canyon is that you can fly into Las Vegas and combine the ultimate Downtown Adventure with your trip to this great National Park. Utah has some amazing parks that are a relatively short driving distance from the Grand Canyon. You will be able to cram a lot of solid anchor activities into a one week road trip.
Wineries Arizona has been producing wine grapes for over 400 years and the vineyard regions of this state are as much as 20 degrees cooler than the typical 100 degree thermometer readings in Phoenix. The best time to visit Arizona wine country is in late summer or early fall so you can taste the wines made from the new harvest.
Outdoor Festivals The Arizona state fair is held in Phoenix and there is so much you can do in that city. There are several outdoor music festivals throughout the summer months in Arizona and one that you might want to check into is the Sedona Jam.
National Parks The Grand Canyon is obviously the crowning jewel of the Arizona National Park system but there are so many other parks that you can visit on your road trip. Many of these parks offer great places to camp and escape the city. If your looking to purchase authentic Native American artifacts then there are lots of opportunities near the Grand Canyon and you should not pass them up.
Prescott Downs located in Prescott Arizona offers live Thoroughbred Quarterhorse racing between Memorial Day and Labor Day weekends each year.
Turf Paradise is only a short 14 miles from downtown Phoenix and is a great way to spend a day and provides an excellent anchor activity for your Arizona road trip. The clubhouse on the 2nd floor is a casual atmosphere and has great views of the mountains and the race track. If your looking to spend lots of your hard earned money then you'll want to work your way to the 3rd floor VIP clubhouse and sample some of their world-class prime rib.
Yavapai Downs at Prescott Valley are the host of the Yavapai county fair but the race track is open during the summer months to feed your horse racing needs. The grandstands can accommodate up to 10,000 people and there's opportunities for private parties at this facility.
Lake Havasu is an amazing road trip destination because there are over 400 miles of coastline and lots of great activities. Golfing, boating, skiing, and house-boating are all available for this vacation. Renting a houseboat for a week is a trip that you will remember for a long time and this is the perfect spot for this activity-especially if your looking for a college road trip idea.
Castles N' Coasters is located in Phoenix and is a great theme park for the entire family. You'll want to make sure you ride the Desert Storm and the Patriot coasters and then check out the Sky Diver ride. Birthday parties are available but you will need a group of at least eight people to make this a reality.
Enchanted Island is in the Encanto Park area of Phoenix and offers lots of great rides for young children in your group. They will love the bumper boats and Red Barron miniature roller coaster. The C.P. Huntington train is something the whole family can enjoy together!
Old Tucson Studios is one of Tucson's most unique vacation destinations and is a must-see for a Western-Movie fan. The studios are filming all year long and you can be a part of movie history. There's lots of old west demonstrations, stunts, saloon singing, and trail rides for the entire family.
Trail Dust Town is a true western town that over 500,000 people visit each year in Tucson. There is no admission charge but there is so much to do including gold panning, exploring the wooden boardwalk or the town square, and eating at some of the local restaurants.
Arizona Diamondbacks

Park: Chase Field

Address: 401 East Jefferson St., Phoenix, Arizona

Phone: 602-462-6500
Arizona Cardinals

Park: University of Phoenix Stadium

Address: 1 Cardinals Way, Phoenix, Arizona

Phone: 480-784-4444
Stadium: America West Arena

Address: 201 E. Jefferson Street, Phoenix, Arizona

Phone: 602-379-7867
Hockey Rink: Jobing.com Arena

Address: 9400 W. Maryland Ave. , Glendale, Arizona
Race Track: Phoenix International Raceway

Address: 125 S Avondale Blvd # 200, Avondale, Arizona

Phone: 623-463-5400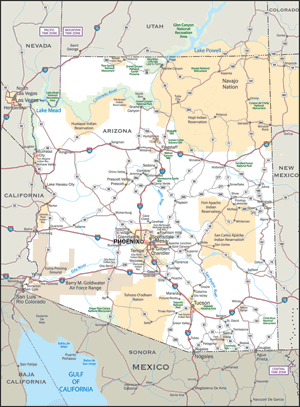 Get great ideas for your Arizona Road Trip