Arkansas Road Trip

Your Arkansas road trip will take you through some of the most spectacular sites in the entire country. Be prepared to have your breath completely blown away.
Little Rock is home to over 500,000 people and is the hometown of Bill Clinton. There are lots of neat things to check out in this town and here are a few ideas:
Allsopp Park (501-371-4770): Features hiking trails, bike trails, playground, tennis courts

Arkansas River: Do not swim in the river because it's dangerous

State Fair Complex (501-372-8341): Events are held year round including rodeos, livestock shows, carnivals, music concerts, hunting shows, drag racing, gun shows, and antique shows.

Barefoot Studio (501-661-8005): A truly high quality yoga experience.

Burns Park (501-791-8537) One of the largest city-owned parks in the entire country (1,600 total acres)!

Cheeseburger Cheeseburger (501-490-2433): This is a throwback to the 1950 diners and has a 20 ounce burger and over 80 flavors of milkshakes.

Diamond lakes (800-467-4636): Five of the most popular lakes in the sate: Lake Catherine, Lake Hamilton, Lake Greeson, and Lake Ouachita. These are great places to party on barges, houseboats, and powerboats.

Julius Breckling Riverfront Park (501-371-4470): Includes the Riverfest Amphitheater and is near the River Market District.

Little Rock Zoo (501-661-7224): Over 700 animals for viewing enjoyment

Maumelle Park (501-324-5551): Hiking trails which lead to the peak of Pinnacle Mountain

Murray Park (501-371-4770)

Old Mill (501-758-1424) Features a re-creation of a water-powered gristmill and is a great place for your digital camera safari. The opening shots of "Gone With the Wind" were filmed here.

Rebsamen Tennis Center (501-664-0736) over 17 tennis courts

Willow Springs Water Park (501-888-4148): A great place to take the family to relax and cool off.
There are 52 State Parks all together and this is perfect for you to plan your Arkansas road trip. The parks offer endless possibilities for fishing, camping, auto touring, star gazing, hiking, backpacking, spelunking, hang gliding, horseback riding, kayaking, cabin rentals, and RV Land Safaris.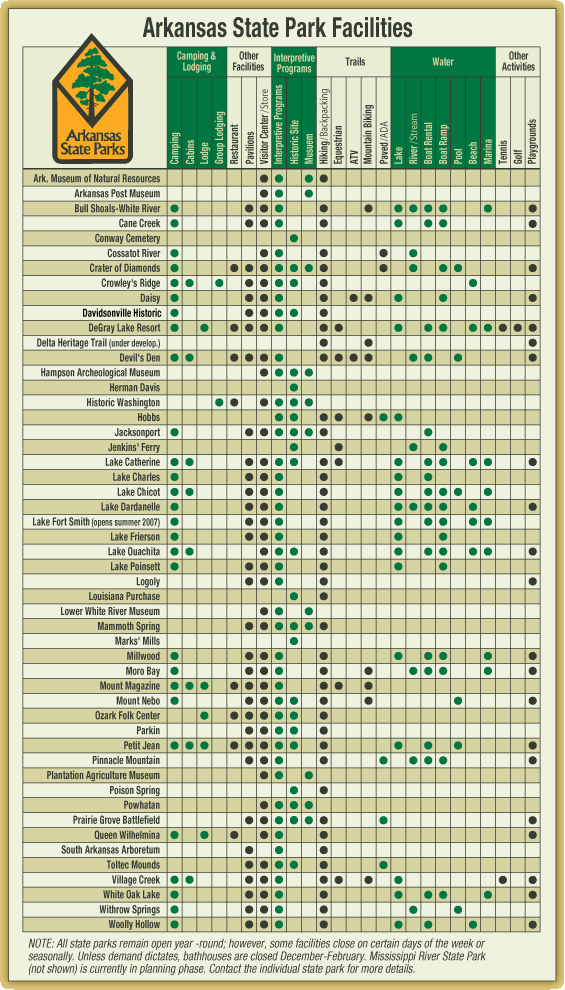 Taylor Bay Beach is in Woodruff County and isn't going to overwhelm you with large crowds. Instead this is a nice area to get out and explore for the day. You can also explore Augusta Narrows or Jacksonport State park which are both nearby.
Oaklawn Jockey Club is in Hot Springs and has been open since 1904. There's poker, horse racing, and lots of electronic machines which is plenty to keep the savviest of gamblers busy.
National Parks in Arkansas consist of the Arkansas Post, Buffalo, Central High School, Pea Ridge, and the Trail of Tears. There are however, 52 state parks which is going to provide you with plenty of camping and outdoor options.
Magic Springs is located in Hot Springs and offers the greatest variety of theme park experience in Arkansas. There are dozens of great rides and attractions to choose from such ase the X-Coaster and the Gauntlet Roller Coasters. There's a runaway mine train that takes you through the woods or you can soak yourself on Plummet Summit and on their Old #2 Logging Company log flume ride.
Wineries: Many of the wineries in Arkansas will offer free tours such as Chateau Aux Arc and Mount Bethel Winery.
Outdoor Festivals are always a great road trip activity and Arkansas has many of them for you to choose from. The state fair is always held in Little Rock where there are also several outdoor music festivals. Arkansas has lots of bluegrass and folk festivals as well that you can explore and listen to during your vacation.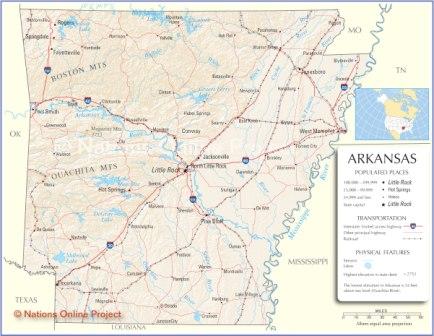 Begin planning your Arkansas road trip