Idaho Road Trip

Your Idaho road trip will simply be your way of taking a vacation that can only be described by one word-adventure. There are lots of parks, events, and places to explore at unbelievable prices that you can not overlook Idaho for your road trip. Idaho has a great website for you to explore and plan your vacation with some pretty incredible activities.
Boise is the largest city in Idaho and would be your best bet for a downtown city adventure. There are lots of activities and adventures that you can have in this town so please make sure not to overlook this as an option for your upcoming road trip. Here are some ideas of what you might want to do while you are in Boise:
Hot Air Balloon Rides from All About Fun: They are located at 4725 Windward CT. and can be contacted by phone at 208-322-8626

Basque Museum & Cultural Center is at 611 Grove St. and gives you a glimpse of the Basques in Idaho and their old-world origins

Bogus Creek Outfitters and Range is located at 7355 Eagle Rd., and is a complete western experience for you and your entire road trip crew. You can contact them at 208-887-7880

Boise Art Museum: 670 Julia Davis Drive. Phone: 208-345-8330

Boise Trolley Tours: Take a 60-minute trolley ride around town. You can call them at 208-433-0849

Cascade Raft & Kayak is at 7050 Hwy. 55 and you can call them toll free at 888-292-7238.

Discovery Center of Idaho has lots of great exhibits and on 131 Myrtle St.

Idaho Botanical Gardens: 2355 N. Penitentiary Rd.

Idaho Historical Museum: 610 N. Julia Davis Drive. Phone: 208-334-2120

Old Idaho Penitentiary State Historic Site: 2445 Old Penitentiary Road. Phone: 208-334-2844

Roaring Springs Water Park has over 20 great attractions including a wave pool. They are at 400 W. Overland Rd. Phone: 208-884-8842

Stage Coach Theater is in the Hillcrest plaza on the corner of Overland and Orchard. You can call them for show times at 208-342-2000

Thunder Mountain Line Scenic Train Rides is on 120 Mill Road and your chance to learn the fascinating history of Thunder Mountain

The Zoo is located at 355 Julia Davis Drive.
National Parks are always a perfect fit for your road trip adventure and while cruising through Idaho you might want to check out some of the Nez Perce or stroll over towards Yellowstone.
Silverwood in Athol is the largest Theme Park in the northwest and has over 60 great rides. There are water slides, roller coasters, wave pools, and a steam engine that the whole family will love. They are famous for their cheeseburgers so stop in and have an amazing time. Aftershock is an excellent roller coaster that has a 177 foot drop, 3 inversions, and whisks you to speeds of 65 miles per hour!
Outdoor Festivals are not overly common in Idaho but you can browse for some of them on our festivals page.
Wineries are always a great place to stop and grab a bottle for a souvenir or gift from your road trip. The elevations in Idaho provide the highest levels of any northwest state. The soil has a high concentration of volcanic-ash and there are long daylight hours which are perfect for growing grapes.
Les Bios Park in Boise is open during the summer and also features live simulcast racing from Emerald Downs, Portland Meadows, Wyoming Downs, Canterbury, and Yellowstone Downs.
Bronco Beach, Power County

Compressor Station Bench, Power County

Honeysuckle Beach, Kootenai County

North Beach, Valley County

Preston Beach, Kootenai County

Sanders Beach, Kootenai County

Sandy Point Beach, Ada County (Voted as Idaho's best beach!)

Silver Beach, Kootenai County

Sylvan Beach, Valley County

Wheatgrass Bench, Power County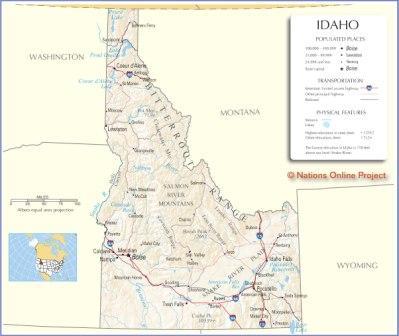 Get great ideas for your Idaho Road Trip