Kentucky Road Trip

Your Kentucky road trip will be an adventure that you will want to do on a regular basis. There are two things that Kentucky natives take seriously and that is their bourbon and horse racing. The Kentucky Derby is no exception and is an enormous celebration and event that takes place annually in May and the entire state joins in the festivities. There are fantastic parks and camping adventures awaiting you in the state and you can also take a stroll on the bourbon trail to sample some of the best whisky in the world. Louisville features some absolutely fantastic nightlife on 4th street and will provide you with some amazing memories.
Louisville is a great stop on your Kentucky road trip because there really is a lot to do in this friendly bustling downtown. You may choose to visit the Louisville Slugger museum, the Muhammad Ali Foundation, or take in a horse race. One thing that you absolutely must do is make your way down to 4th Street and take in some of the best nightlife in the country. The bars are open until 4:00 am on the weekends and jammed packed with people having an amazing good time. You will not run out of ideas or places to see in Louisville.
Lexington is also a perfect city for your downtown city adventure and is commonly referred to as "The Horse Capitol of the World". There are many great restaurants and fabulous hotels to stay at as well as fantastic shopping adventures waiting to happened. There are tons of colleges and universities in the area including Kentucky State University. Wherever you have colleges, then that automatically means that there are great bars and nightlife as well-Lexington will not disappoint you.
Every year in Kentucky the entire state nearly shuts down because of this fantastic event that is held the first weekend in May. People from all over the world travel to Churchill Downs in Louisville to witness this historic race. Although the grandstand seats are quite expensive the real party is in the infield and tickets are very affordable.
Over 95% of the bourbon whisky in the world is only made in Bourbon County (which is ironically still a dry county). The Bourbon Trail is a perfect activity for your Kentucky road trip because it will allow you to drive through the scenic country sides and see the distilleries first hand. The trail consists of the following eight distilleries.
Buffalo Trace

Four Roses Bourbon

Heaven Hill

Jim Beam

Makers Mark

Woodford Reserve

Wild Turkey

Tom Moore
Kentucky National Parks offer a wide variety of great activities and sites for your road trip. Mammoth Cave is the perfect destination for a spelunking excursion. If you are in Middlesboro then you should make it a point to visit the Cumberland Gap National Park because the scenery is absolutely amazing-especially in the fall.
There are tons of State Parks in Kentucky that are a perfect fit for every traveler. There are over 30 campgrounds in Kentucky and it makes for a very inexpensive college road trip or family vacation.
Beech Bend Raceway Park in Bowling Green features a campground and a huge race track in addition to the many water rides and thrill rides!
Dogwood Lake Fun Park in Dunmor is a camping resort with water slides and fun for the whole family.
Guntown Mountain Amusement Park in Cave City is an Old West theme park and is perfect if you already planning to visit Mammoth Caves because of its close proximity. You'll want to block out an entire day to explore the haunted house, the live shows, and gunfites!
Six Flags Kentucky Kingdom in Louisville lives up the splendor of the other Six Flags theme parks. There are so many thrill rides in this park it will absolutely leave your head spinning.
Outdoor Festivals are extremely common in Kentucky and are something you must consider if you are going to take your road trip through the Kentucky area. The people in this state are the most friendly anywhere in the United States and love to socialize and talk to strangers. You will feel welcomed immediately and have an amazing time.
Wineries are a true part of the history of Kentucky and the first one was built in 1798! There are still some bootleggers in the hills who make moonshine but its difficult to get your hands on that southern delicacy (plus it is highly illegal to purchase).
Kentucky does not have professional sports teams but horse racing is huge in this state and people absolutely love the thrill that these races offer. These races are the talk of the town and absolutely drive their social planning. Checking out these races first hand is like something you will not experience anywhere else in the world because of the heightened excitement.
Churchill Downs in Louisville is the home of the Kentucky Derby! This is one of the most famous horse races in the world and is part of the elusive Triple Crown.
Ellis Park features live thoroughbred racing in Henderson.
Keeneland is an absolutely spectacular racetrack in Lexington.
Kentucky Downs is in Franklin and is a great alternative to Churchill Downs if you want to avoid the huge crowds.
Red Mile is a harness racing track in Lexington. Admission is inexpensive and there are lots of facilities for almost every occasion-including a wedding.
Turfway Park is in Florence which is a quick jog from Cincinnati and is a great place to watch live thoroughbred racing.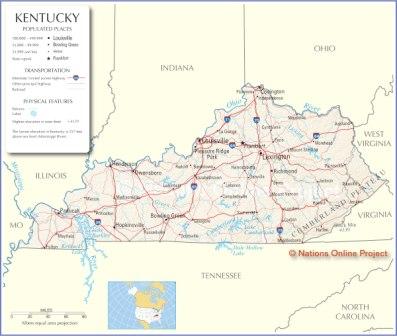 Begin Planning your Kentucky Road Trip