Nebraska Road Trip

A Nebraska road trip will typically be a stop as you drive across the country. Blocking out a day or weekend to stay in Omaha or Lincoln will be a pleasant surprise on your trip. If your looking to camp to keep costs down on this road trip adventure then you will want to check out one of Nebraska's State Parks because this will be your most cost effective option.
Lincoln is a growing Midwestern city with an overall great atmosphere about the people. You can easily escape for a round of golf, check out some great restaurants, or maybe even check out a band as it passes through town. Lincoln has over 80 miles of hiking and biking trails for you to explore and lots of public park lands for you to explore.
Omaha has the largest indoor rain forest in the world, so if looking at animals in a zoo setting is something that you always wanted to do...you are in luck. The city features excellent shopping opportunities, golf courses, and public parks for you to explore.
National Parks are always a great idea and you may want to check out the Agate Fossil Beds or if you are looking for a true outdoor adventure then check out Niobrara because there are lots of canoe and kayak rental outfits in the area. You can combine your boating experience with a camping excursion at Smith Falls State Park which is very close to this National Park.
| | | | | | | | | | |
| --- | --- | --- | --- | --- | --- | --- | --- | --- | --- |
| Park Name | Park Features | Tent Camping | Cabins | Trails | Picnicking | Boating | Fishing | Swimming | Concessions |
| Chardon State Park | Horseback trails, swimming pool, tennis courts, paddle boats, cabins, showers, more | Yes | Yes | Hiking, Biking, Horse | 6 shelters & 160 Grills | Boat Rentals Available | Yes | Yes | Yes |
| Eugene T Mahoney State Park | Water slides, wave pool, mini golf, horseback riding, winter activities | Yes | Yes | Hiking, Horse | 10 Shelters, tons of tables and grills | No | Yes | Yes | Yes |
| Fort Robinson State Park | Horseback riding, jeep tours, indoor pool, camping | Yes | Yes | Hiking, Horse, Mountain Bike | 3 shelters, public tables and grills are plentiful | Yes | Yes | Yes | Yes |
| Indian Cave State Park | Horseback riding, boat access, RV Camping | Yes | No | Hiking, horse, mountain bike | Lots of shelters, tables, and grills | Yes | Yes | No | No |
| Niobrara State Park | Horseback trails, fishing, bird watching, camping | Yes | Yes | Horse, mountain bike, hiking | Shelters, tables, grills | Yes | Yes | Yes | No |
| Platte River State Park | Waterfalls, horseback, restaurant | No | Yes | Mountain Bike, Hiking | Yes | No | Yes | Yes | Yes |
| Ponca State Park | Meeting rooms, fishing, hunting, golf | Yes | Yes | Mountain Bike, Hiking | Yes | Yes | Yes | Yes | No |
| Smith Falls State Park | Pay Showers, Waterfalls, primitive camping | Yes | No | Hiking | Yes | Yes | Yes | No | Yes |
Aksarben Race Track and Coliseum in Omaha is always full of great local events such as tractor pulls, horse races, car races, concerts, etc. If you are planning a downtown adventure in Omaha then you may want to purchase some event tickets at this facility.
Fonner Park in Grand Island has had live thoroughbred racing since 1954 and also features simulcast racing and Keno.
Horsemen's Park in Omaha has a 5/8 mile oval track for live horse racing in the summer months and there is simulcast racing all year round. There is no age limit so you can bring the kids into the track if you wish.
Nebraska Wineries are everywhere in the state and there are actually over 200 vineyards that you can visit. Because of the special soil in the ground and the winds throughout the state it provides a perfect environment for grape growing.
Outdoor Festivals are not very common in this state so you will likely need to seek out other great ideas for your Nebraska road trip.
East Shore, Gosper County

Fremont Beach, Dodge County

Mallard Beach, Gosper County

Midland Beach, Dodge County

North Shore, Dawson County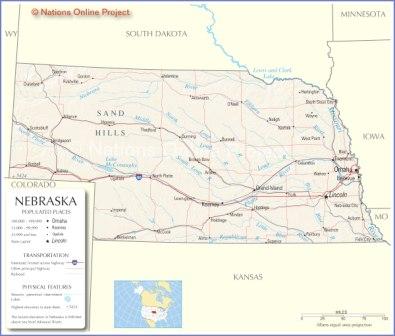 Begin planning your Nebraska road trip