Bus Travel
Bus travel is an option that you should strongly consider for your upcoming road trip. Ticket prices will be less expensive than fueling your car with gasoline and you don't have to worry about driving. Traveling by bus is the safest form of transportation according to the US DOT. Private bus lines reduce fuel consumption over 4.2 Billion gallons per year and this also reduces the carbon emissions by 37 million metric tons!
These are some great facts about passenger busses:
The most common reason to travel by bus is to visit friends and family
60% of all Greyhound passengers are traveling over 450 miles
An average bus ticket price is $45
Nearly 45% of all bus travelers are between the age of 18-34
Greyhound has over 2,400 locations in the continental US
Greyhound over 13,000 departures each day
If you are considering traveling alone or in a small group then you should look into traveling by Greyhound.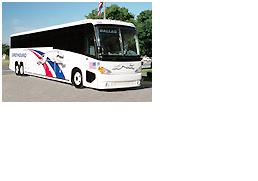 Need To Know Information:
You do not need to make reservations when traveling by Greyhound

Seating is on a first-come, first-serve basis

Arrive at the station 1 hour before your bus leaves

Boarding is 15-30 minutes before departure

Busses make regular stops for meals-but express trips are available

Greyhound busses are air conditioned, have a restroom, reclining seats, footrests, and tinted windows

Bring reading material, your laptop, MP3 Player, pillow, and snacks

There are no chargers available on the bus to refuel your batteries

Alcohol, drugs, and weapons are strictly prohibited

You can not bring your pet with you along for the ride
If your road trip is with a large group such as a wedding, college fraternity or sorority, or large group of friends then you should look into a Trailways package.
If you will be taking a bus travel road trip then click here for some great vacation ideas.