Wildlife Safari
A North American Wildlife Safari is the best way to see real-life animals in their natural habitat!  It's a blast and I recommend it for all ages and all Road Trippers (even though we don't have lions and tigers)
Everyone loves looking at pictures of animals.  Almost every National Park in the country is loaded with these fun-loving animals and they are often times found right next to the road...waiting for you to capture them on film (or digital technology).
Number of travelers needed: This activity works great with any sized travel party! 
Animal pictures are always a hit when you show them off to your friends and family.  Every state in our country has some sort of wildlife and with just a tiny bit of effort you can find these fun-loving animals and capture them on film forever.
There's no need to start off with the exotic animals like the grizzly bear, rattlesnakes, or the elusive wolverine.  Driving by farms and taking pictures of cows and horses will keep the little ones extremely occupied.  Let their imaginations run wild.
Pop in your favorite tunes and unleash the digital magic on your camera! 
Helpful Tip:
When you are in a National Park and see several cars pulled over on the side of the road....STOP! 
The chances are excellent that they already did the hard work and found the animal for you.  All you need to do is pull your car over to the side of the road, check out it's quirky behavior and snap some pictures.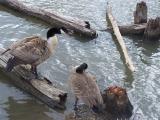 While on your North American Wildlife Safari, you might as well check out this last game